When you're getting ready to remodel your kitchen, or are building new, you'll want to make sure you pick the right colors for your kitchen and lifestyle. Your counter top is going to be around for 20 years or more, so choose wisely! One of the best ways to do this is to take some nice photos with your phone or digital camera, then come visit Austin Stone Works to see the many color choices and pattern options available. Our professionals can assist you with their expertise.
Many people don't think about things like adding a section of wood to use as a cutting board or including a marble slab for the baker to roll on. Adding a splash of complimentary color for your island countertop is a great way to add interest in your kitchen, as is including some decorative blocks in your backsplash. Note the accenting backsplash on this kitchen below: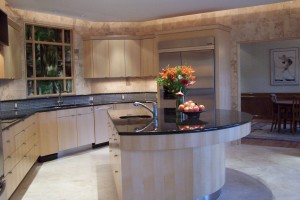 While you're at our offices, we can show you samples of edges, pictures of finished countertops and talk about options you may not have even considered! Give us a call today and let us help you make the perfect choice for your home, whether it's your kitchen, bath, patio or entry.